These Beer Braised Short Ribs are comfort food at its best. Tender beef meets a deep, rich, stout-infused gravy, for a restaurant-quality dinner at home. Great for St. Patrick's Day or a cold winter's night.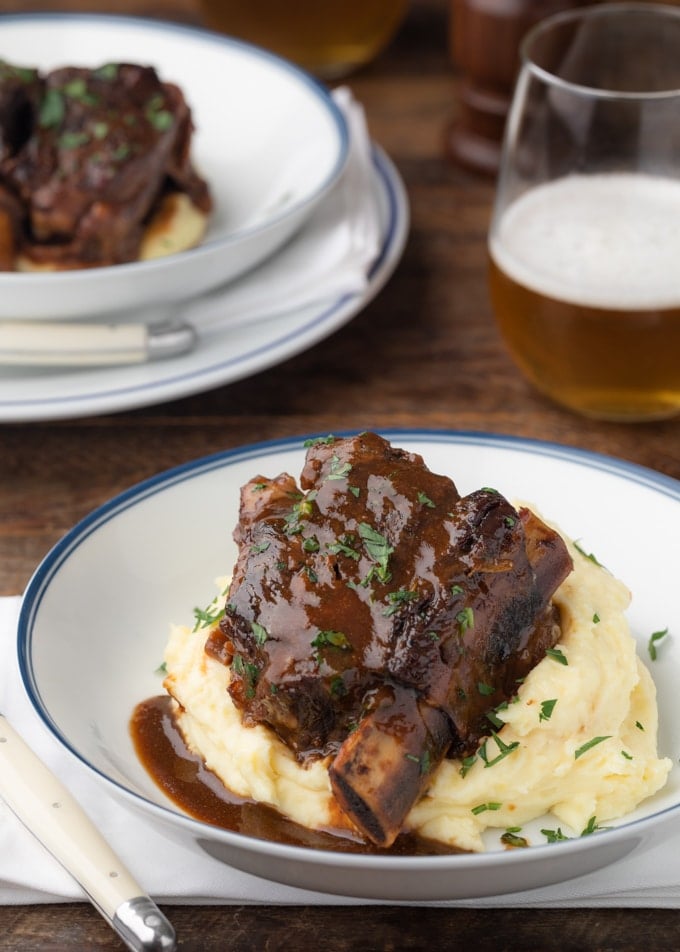 In this article (click headings to jump)
Shopping for Short Ribs
How to Make Beer Braised Short Ribs
i. Prepping the Meat
ii. Building the Braising Liquid
iii. Braising the Beef
Dutch Oven vs. Instant Pot
ii. Instant Pot Tips
Making the Stout Gravy
Serving the Short Ribs
Recipe FAQ's
This recipe tutorial is a reader request! So many people on Instagram saw my recipe for Stout-Braised Short Rib Cottage Pie, and wanted to know if they could serve the beef as a standalone recipe.
So, I decided to write up a tutorial just for the short ribs. Whether you're making that showstopper cottage pie recipe, or you want an impressive short rib dinner that you'd swear came from a restaurant, this post is for you.
This article is one of my longer ones, but I've covered everything you need to know to make the best Beer Braised Short Ribs in a Dutch oven or your Instant Pot. Grab a stout and read on!
This post contains affiliate links. As an Amazon Associate, I earn a commission (at no additional cost to you) from qualifying purchases made by clicking these links. As always, all recommendations and opinions expressed are my own.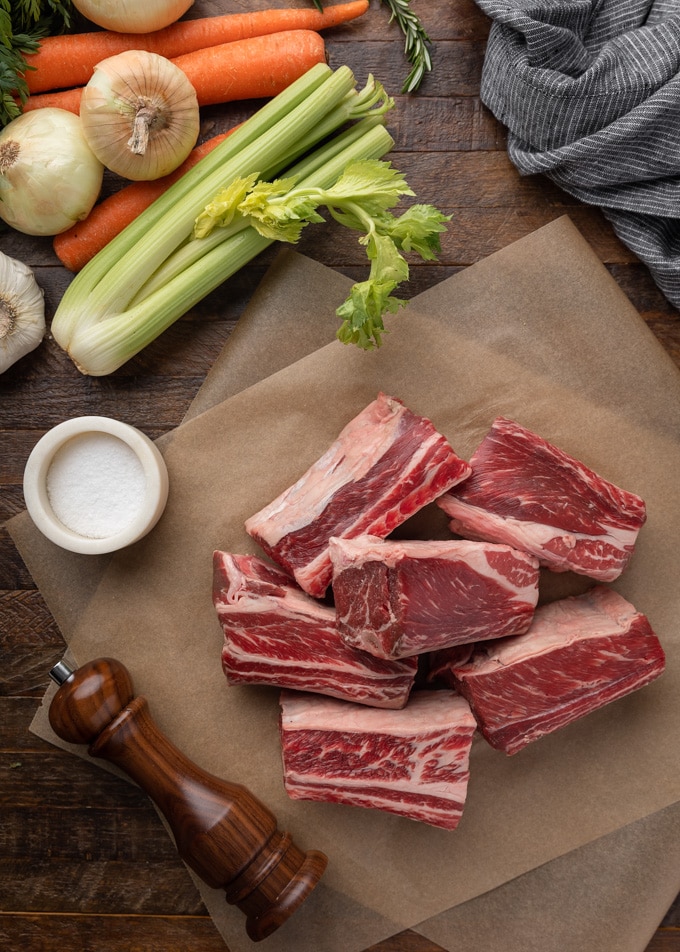 Shopping for Short Ribs
For this recipe, you'll need bone-in, English cut short ribs. These are the thick and meaty short ribs, cut along the rib bone.
Want to read more about different cuts of short ribs at the market? Check out this article from Bon Appetit.
Buy short ribs that have a good meat-to-fat ratio. Short ribs are, by nature, a fatty cut. That said, I made this recipe once with ribs that were too fatty, and the results were disappointing. Look for a thick rib with good marbling, and plenty of meat on the bones.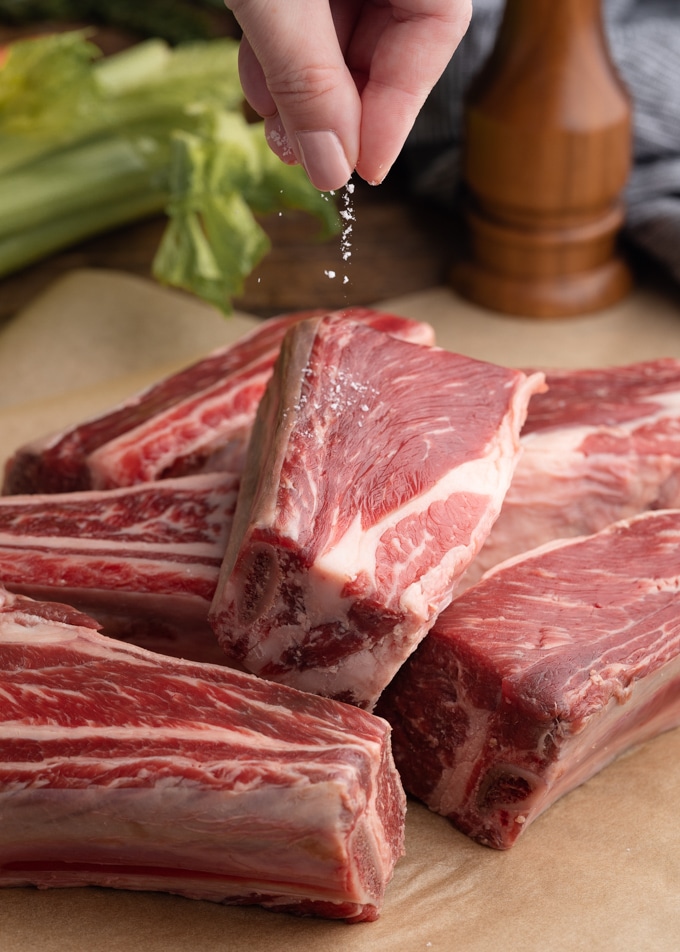 How to Make Beer Braised Short Ribs
Prepping the Meat
One of the keys to making a great braise is building layers of flavor. This starts with seasoning and searing the short ribs.
The seasoning here is simple: just a generous sprinkling of kosher salt and freshly-cracked black pepper, before a light dredge in flour. Then, start building incredible flavor by searing the meat.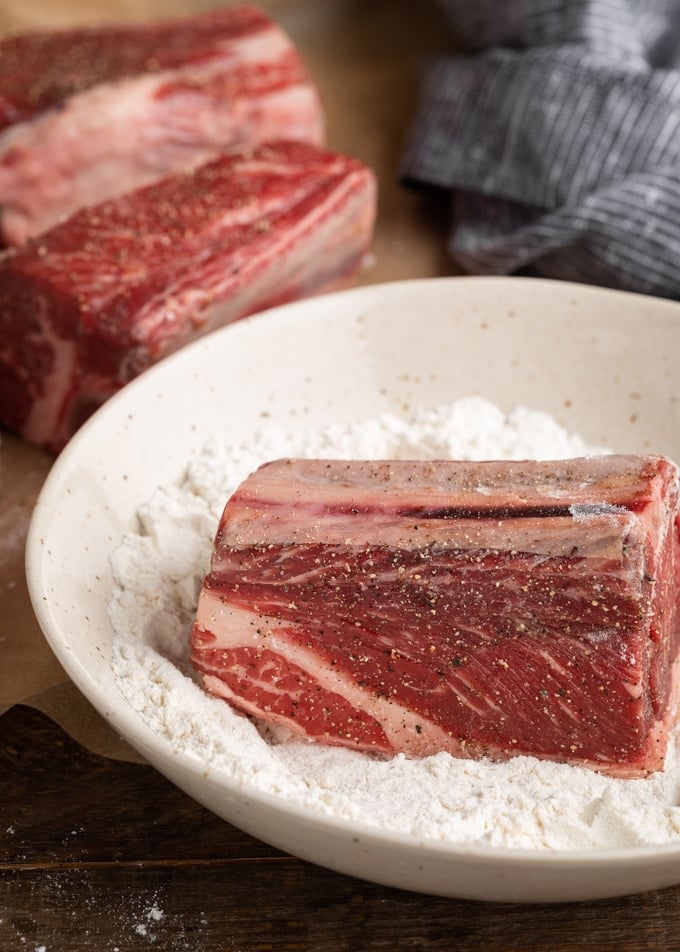 Developing a good crust on the short ribs is essential. To do this, get your pan hot with just enough oil to cover the bottom. If the cooking surface is too small to add the ribs in a single layer, without crowding, sear them in batches.
Once the ribs are in the pot, don't touch them for a few minutes. When a deep golden crust forms, the meat will release easily. This takes me 3-4 minutes per side in well-heated, enameled cast iron.
Need a Dutch Oven? This is the one I used in this post:
As an Amazon Associate, I earn from qualifying purchases.
Building the Braising Liquid
Once the short ribs are seared, continue building the flavor with aromatics. Sautéed carrots, onions, and celery form the base of the braising liquid, with tomato paste, and plenty of fresh garlic.
Tip: You won't be serving the vegetables in the plated dish, so if your chopping is a little rustic, it's fine! They're just here to flavor the braising liquid.
I deglaze the pot with the stout beer, using a wooden spoon to scrape up all of the delicious little brown bits that have formed. They're flavor gold!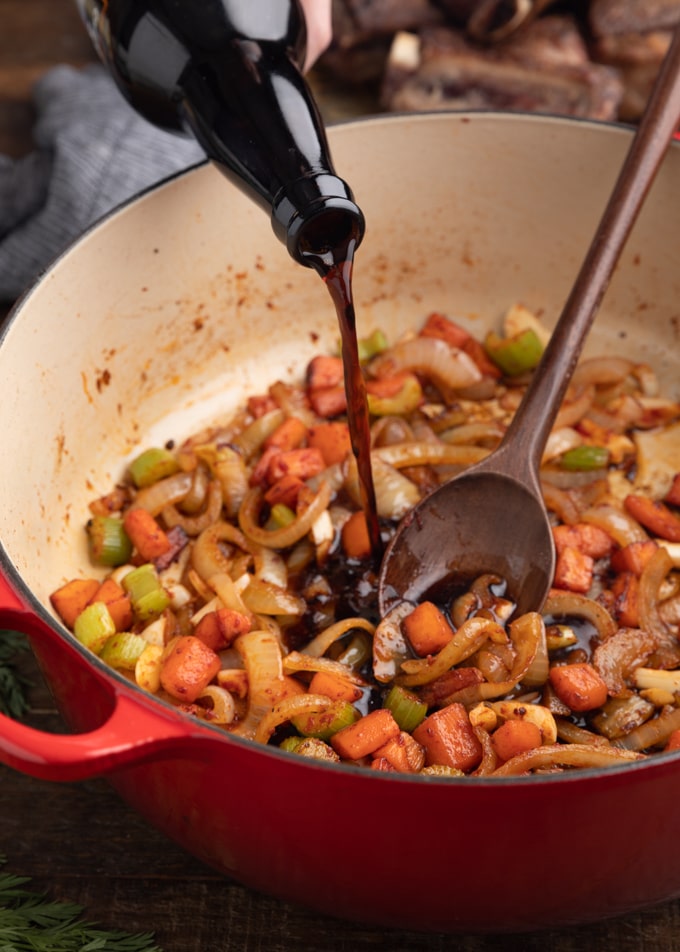 Braising the Beef
With the braising liquid developed, it's time to nestle the short ribs back into the pot. Add enough beef broth to come about 3/4 up the sides of the ribs. For the Dutch oven method, don't submerge the meat completely.
Bring the pot to a simmer with a bay leaf and a bouquet garni of rosemary and thyme. Then, lid the Dutch oven, and start the low and slow braise in the oven (i.e. the three hours of tempting aromas coming out of your kitchen!)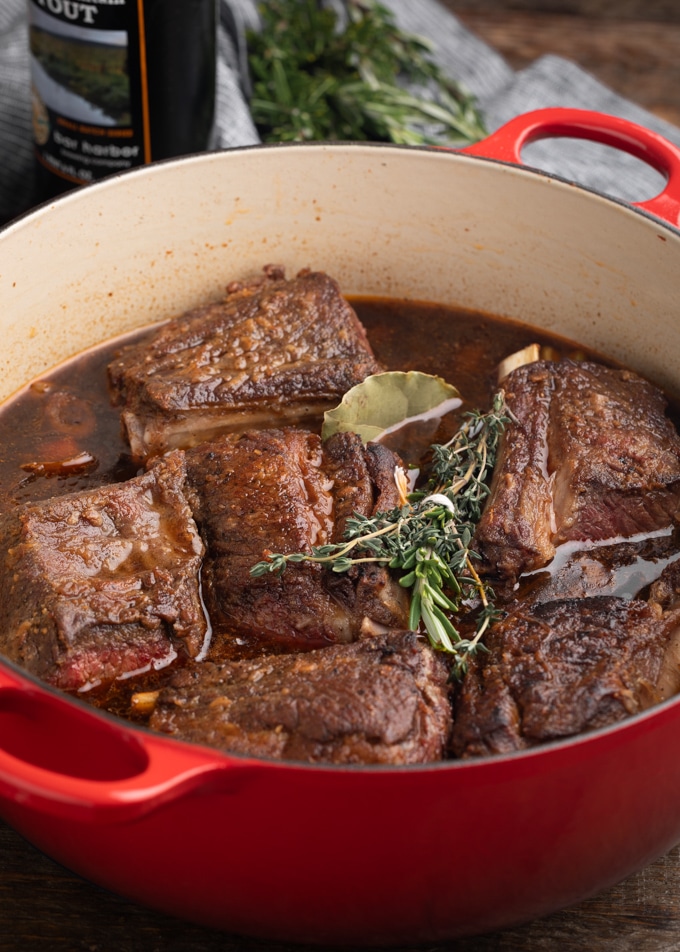 Dutch Oven vs. Instant Pot
Also by reader request, I've written this recipe for both the Dutch oven and the time-saving Instant Pot.
I'm always honest with you about recipes, so I'm going to be completely transparent here: I prefer these short ribs with a slow braise. It develops a complexity of flavor and richness to the meat that just isn't possible with a pressure cooker.
That said, short ribs made in the Instant Pot certainly aren't bad. The meat comes out of the pressure cooker flavorful and fall-off-the-bone tender in about half the cooking time.
It's a good option when you have a craving for short ribs and don't have all day. Or, if you're prepping these ribs to make the cottage pie I mentioned at the start of this post.
Comparison: After the prep/searing process (which takes about 30 minutes), short ribs made in a Dutch oven take 3 hours to braise. Those made in the Instant Pot take 85 minutes, including time for the pot to come up to pressure and release.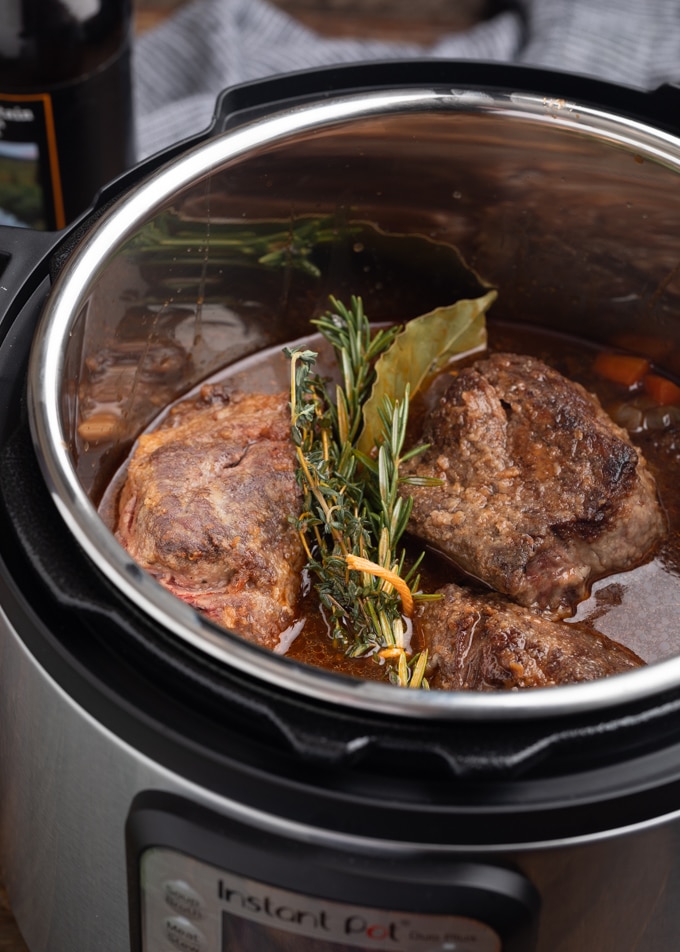 Tips For Making this Recipe in The Instant Pot
The ingredients and basic method are the same between a slow braise and an electric pressure cooker.
The only thing I change is that I leave the garlic cloves whole for the Instant Pot (gently crushing them with the back of a chef's knife) instead of slicing. Whole garlic holds its flavor better when pressure cooking.
Using the "Sauté" Function (Or Not)
While the Instant Pot has a sauté function, I don't use it to sear the short ribs. In my experience, they 1) take a lot longer to properly brown in the insert, and 2) never develop the same enviable crust as in cast iron on the stove.
Also, the size of the insert is much smaller than my Dutch oven or cast iron pan. So, it takes multiple batches to sear the hefty short ribs in the pressure cooker without crowding.
For better flavor and saving time, I prefer to sear and sauté everything on the stove, deglaze with the stout, and transfer to the Instant Pot for the "braise." It's an extra pan to wash, but worth it.
Shopping for an Instant Pot? I own the DUO Plus line, in 6 quart and 8 quart. I used the 6 quart for this recipe:
As an Amazon Associate, I earn from qualifying purchases.
If you decide to sear the short ribs in the pressure cooker insert, keep in mind that 1) it will take you longer, 2) you won't get the same depth of flavor, and 3) depending on your model, you might get a "Burn" warning when you start pressure cooking if you haven't fully deglazed the insert, or if the element has gotten too hot from extended sautéing.
I recommend letting the insert cool off for about 10-15 minutes between sautéing and pressure cooking if you go this route.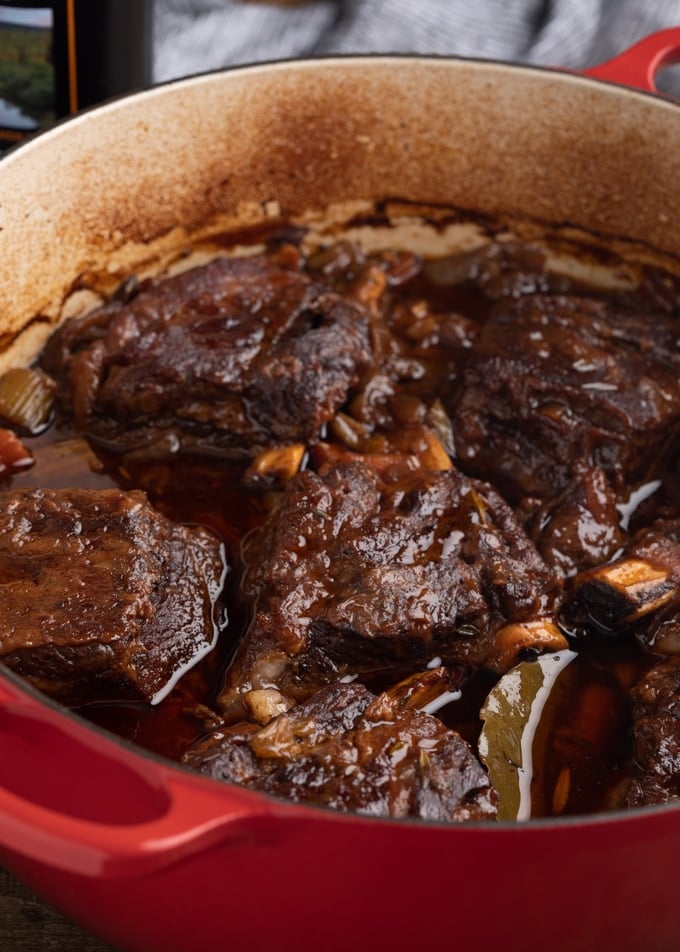 Making the Stout Gravy
Whether you're making the short ribs in the Dutch oven or Instant Pot, you'll have flavorful braising liquid to make an easy gravy. Just strain out the vegetables and herbs, skim the fat off of the top (short ribs throw a lot of fat), and reduce it with a little Dijon mustard until it coats the back of a spoon.
If you've made the short ribs in the Instant Pot, you'll have more liquid left, and it will take longer to reduce it than in the Dutch oven. Just as I like to sear the beef on the stove instead of the pressure cooker insert, I simmer the gravy in its own pot.
Serving Beer Braised Short Ribs
These rich short ribs are just begging to be served with something creamy and/or starchy to mingle with the luscious gravy. We like them with my creamy mashed potatoes (add in some shredded Dubliner cheese for a twist!), colcannon, polenta, or egg noodles.
For a lower-carb side, these stout braised braised short ribs are also delicious with mashed cauliflower.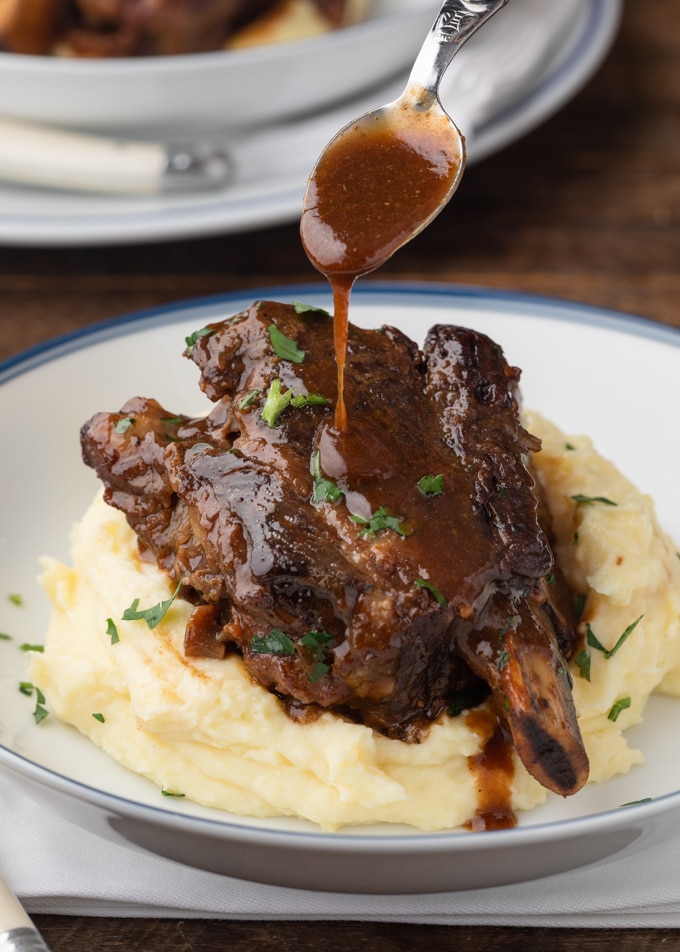 Recipe FAQ's
Q. Can I substitute boneless short ribs?
A. I don't recommend substituting boneless short ribs in this recipe. Cooking the meat on the bone is well-suited to braising, and adds great flavor to the overall dish.
Q. Can I use other types of beer?
A. Yes. We love a dark beer, like stout, with short ribs. It complements the rich, beefy flavor. Stout (such as Guinness) does add a bitter note to the gravy. For a less assertive flavor, use a milder stout, like Murphy's Irish Stout. I often use my favorite craft stout from Maine, Cadillac Mountain.
For an even milder flavor, you can substitute lager. I love to braise with Samuel Smith's Organic Lager (which I use in my Beer Braised Corned Beef).
Q. Can I make this recipe ahead?
A. Absolutely! The flavor of beer braised short ribs actually improves on the second day. Plus, it's easier to defat the braising liquid once it's been chilled.
To make it ahead, strain the solids from the braising liquid, and cool the short ribs to room temperature in the strained liquid. Cover and refrigerate until ready to reheat.
The next day, use a spoon to scrape the solid fat from the surface of the gravy. Gently simmer the short ribs, covered, until heated through. This will take 15-20 minutes. Then, remove the ribs from the pot, and proceed with reducing the gravy.
CRAVING MORE? Subscribe to my newsletter and join me on Facebook, Pinterest, and Instagram for the latest recipes and news.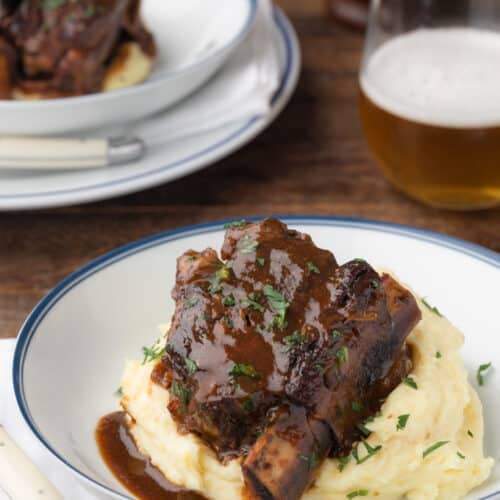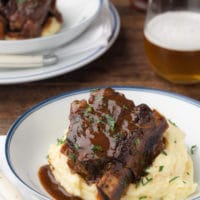 Stout Braised Short Ribs
Tender, fall apart short ribs meet a rich stout-infused sauce. These Stout Beer Braised Short Ribs are a restaurant-quality showstopper!
Print
Pin
Rate
Save
Saved!
Servings:
6
to 7 servings (1 rib)
Estimated Calories Per Serving:
518
kcal
Ingredients
4

pounds

English-cut, bone-in short ribs

1/4

cup

all purpose flour

2-3

tablespoons

vegetable oil

2

large

carrots

, cut into 1/2 inch dice (about 1 cup)

2

ribs

celery

, cut into 1/2 inch dice (about 1/2 cup)

1

medium

onion

, chopped or halved and sliced

2

tablespoons

tomato paste

5

garlic cloves

, peeled and sliced for Dutch oven method, peeled and lightly crushed (whole) for Instant Pot

12

ounces

stout beer

2

cups

beef broth

, plus additional, if needed

1

tablespoon

Worcestershire sauce

1

sprig

fresh rosemary

5

sprigs

fresh thyme

1

large

dried bay leaf

kosher salt and freshly-ground black pepper

1

teaspoon

Dijon mustard

chopped fresh parsley

, for garnish

mashed potatoes, colcannon, polenta, or egg noodles

, for serving
Instructions
Dutch Oven
Preheat oven to 300 degrees F, with the rack in the lower third of the oven. Dry the short ribs with paper towels and season well on all sides with salt and pepper. Dredge in flour, shaking off excess.

Heat the oil in a large (6-7 quart) Dutch oven over medium-high heat until shimmering. (If the short ribs don't fit in a single layer, work in batches.) Brown short ribs on all sides, turning every 2-3 minutes as needed. Transfer to a plate and set aside.

Pour off all but 2 tablespoons oil from the pot. Add carrots and sauté 3 minutes. Add celery and onion with a few pinches of salt and pepper, and sauté until onions begin to brown. Stir in tomato paste and garlic, and cook for an additional 1-2 minutes.

Add stout, scraping the brown bits off of the bottom of the pot. Stir in Worcestershire sauce. Return browned short ribs to the pan (plus any accumulated juices).

Tie the rosemary and thyme together with kitchen twine for easy removal. Add the herbs to the Dutch oven with the bay leaf. Stir in beef broth. The liquid should come about 3/4 of the way to the top of the short ribs.

Bring to a simmer, cover the Dutch oven, and bake for 3 hours, until the short ribs are fork tender. Turn the short ribs after about an hour and a half. If a lot of the liquid has evaporated, add some extra broth.
Instant Pot
Prep and sear the short ribs, saute the vegetables, and deglaze the pan with stout, as in the Dutch oven method. You can use the Instant Pot insert with the SAUTE setting on HIGH to do this in batches, but I prefer to use a pan on the stove for better results. (Important: Read more about why in the Instant Pot Tips section of the article above.)

Add the contents of the deglazed pan, with the aromatics and stout, to the Instant Pot insert and stir in the Worcestershire Sauce. Add the seared short ribs, bay leaf, and tied fresh herbs. Pour in the beef broth.

Place the lid on the Instant Pot, set the valve to "sealing," and cook on HIGH pressure for 45 minutes. Let the pressure release naturally for 15 minutes, and then manually release the remaining pressure.
For Both Cooking Methods
Remove short ribs from the pot with a slotted spoon and cover with foil. Strain the braising liquid, gently pressing on the vegetable solids with a spoon or spatula to remove as much liquid as you can. Discard the solids.

Let the braising liquid stand for about 5 minutes. Use a gravy separator or a spoon to skim the top of the liquid and remove excess fat.

Whisk Dijon mustard into the defatted liquid and simmer until it's thick enough to coat the back of a spoon. You should have 2 to 2-1/2 cups of gravy.*

Season the gravy to taste with salt and pepper. Spoon over short ribs and serve with mashed potatoes, colcannon, polenta, or egg noodles. Garnish with chopped parsley.
---
Notes
*For a thicker gravy, make a slurry by dissolving 2 tablespoons of cornstarch in 2 tablespoons of cool water. Whisk the slurry into the sauce a teaspoonful at a time, simmering and adding enough of the slurry to reach your desired thickness (you might not need all of it).
Cooking times listed in the card are for the Dutch oven method. The Instant Pot method requires 50 minutes of prep (including searing the meat, sautéing the aromatics, and making the gravy), and 85 minutes of cooking time (including pressure cooking, pressurization time, and pressure release). 2 hours and 15 minutes total.
For make-ahead instructions, see the FAQ's in the article above.
Nutrition Estimate
Calories:
518
kcal
|
Carbohydrates:
13
g
|
Protein:
45
g
|
Fat:
30
g
|
Saturated Fat:
15
g
|
Cholesterol:
130
mg
|
Sodium:
549
mg
|
Potassium:
1056
mg
|
Fiber:
2
g
|
Sugar:
3
g
|
Vitamin A:
4190
IU
|
Vitamin C:
7
mg
|
Calcium:
53
mg
|
Iron:
6
mg
---
About our Recipes:
Please note that our recipes have been developed using the US Customary measurement system and have not been tested for high altitude/elevation cooking and baking.
Keywords:
beer braised short ribs, instant pot short ribs, stout braised short ribs
Have you made this recipe?
Don't forget to leave a comment and rate the recipe below! Take a picture and tag @stripedspatula and #stripedspatula on Instagram for a chance to be featured in our Insta Stories and newsletter!