Rich, warm, and comforting, this Stout-Braised Short Rib Cottage Pie is an indulgent twist on the traditional meat pie. Great for St. Patrick's Day!
As you've undoubtedly heard, today is Pi Day! Not just any Pi Day, mind you: 3.14.15, the only time that the month, day, and year will coincide with the first 5 digits of everyone's favorite mathematical constant.
Back in high school, before Pi Day was an actual "thing," I thought my coolness factor was off the charts when I memorized the first 30 digits of Pi (a mere 13 of which I still remember today).
As a 30-something, I admit that my interests are more aligned with baking "pie" than memorizing "Pi". With St. Patrick's Day coming up on Tuesday, how better to get in on both celebrations than with a two-fer recipe post?
That's right, kids, it's Pi(e) day on Striped Spatula.  More specifically, Stout-Braised Short Rib Cottage Pie!
I love a good Cottage (or Shepherd's) Pie. It's such homey, comforting food.
Most of the time, these crustless savory "pies" are made with ground meat (beef in Cottage, lamb in Shepherd's; though, the terms are often used synonymously), baked in a brown gravy with a layer of mashed potatoes on top. So. Good.
Having remembered reading a recipe in Martha Stewart Living a few years ago for Stout-Braised Short Rib Pot Pies, I thought it would be fun to try a similar twist with a Cottage Pie.
Here, I braised bone-in short ribs in a mild stout (more on this later), with aromatics, tomato paste, and Worcestershire Sauce. When tender, I shredded the meat into the skimmed gravy with cipollini onions, sautéed mushrooms, and peas, and topped the whole thing with Dubliner cheese Duchess potatoes.  Hungry yet?
For me, the most important component of this dish is the type of stout used. While more heavily-flavored stouts can be preferable for drinking, I find that their flavor becomes too assertive when cooked down as a braising liquid. The taste can be overwhelming, really.
By using a milder brew, the stout's warm coffee and chocolate notes are able to enhance the gravy, rather than overpowering it with bitterness. The stout in this Cottage Pie is a supporting player to the buttery short ribs, not the dominant flavor.


Let me just say that the aroma of the short ribs braising is kind of incredible. Agonizingly good, actually.
As a humorous side note, my 14-year-old miniature Dachshund—who neither eats "people food" nor leaves the comfort of her much-loved bed during nap time for anything—camped out on the floor in front of the oven the entire time this was baking.
My friends and family who tasted this dish were just as enthusiastic. In fact, they've requested that it be on the menu for every St. Patrick's Day/Pi Day celebration from this point forward.
Votes of confidence from friends and the Striped Spatula dog? I guess we have a winner!
Also for St. Patrick's Day:
Irish-American Soda Bread
Creamy Leek and Cabbage Colcannon
Beer-Braised Corned Beef
Chocolate Stout Cream Pie
PSA: As per usual, took many more photos of the cooking process than I could fit in this post! They're available for viewing on my Flickr feed.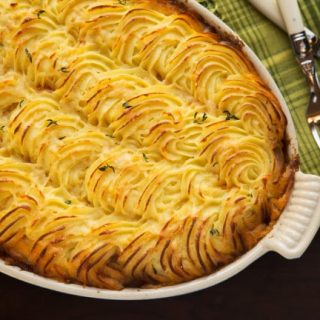 Stout-Braised Short Rib Cottage Pie
Rich, warm, and comforting, this Stout-Braised Short Rib Cottage Pie is an indulgent twist on the traditional meat pie. Great for St. Patrick's Day!

Inspired by "Braised Short Rib, Stout, and Potato Potpies," Martha Stewart

Print
Pin
Rate
Cook Time:
4
hours
30
minutes
Ingredients
To braise the short ribs
4

pounds

bone-in short ribs

1/4

cup

all-purpose flour

kosher salt and freshly-ground pepper

3

tablespoons

vegetable oil

2-3

carrots

(about 1 cup), cut into 1/2-inch dice

1

celery stalk

(scant 1/2 cup), thinly sliced

1

medium onion

, cut in half and thinly sliced

4

garlic cloves

, peeled and thinly sliced

2

tablespoons

tomato paste

1

tablespoon

Worcestershire Sauce

3

cups

stout

*

1/2

cup

low-sodium beef broth

(plus additional, if needed)

1

sprig rosemary

leaves from 5 small sprigs thyme

, stems discarded

1

bay leaf
To make the potato topping
3

pounds

Yukon gold potatoes

, peeled and cubed

1/2

cup

milk or half and half

4

tablespoons

unsalted butter

, melted

1-3/4

cup

shredded Dubliner or sharp white cheddar cheese

, divided

kosher salt

, to taste

3

egg yolks
To assemble the cottage pie
3/4

pound

cippolini or pearl onions

, peeled and halved if large

3/4

pound

cremini or button mushrooms

, cleaned, trimmed, and quartered

1

tablespoon

vegetable oil

1

cup

frozen peas

1-2

tablespoons

cornstarch, arrowroot powder, or tapioca starch

, dissolved in 1-2 tablespoons cool water; (a "slurry")

1

teaspoon

chopped thyme leaves
Instructions
Braise the short ribs
Preheat oven to 300 degrees F. Season the short ribs with salt and pepper and dredge in flour, shaking off excess. Heat 3 tablespoons oil in a large (6-7 quart) Dutch oven over medium-high heat until shimmering. Brown short ribs on all sides, turning every 2-3 minutes as needed. Transfer to a plate and set aside.

Pour off all but 2 tablespoons oil from pan. Add carrots and sauté 3 minutes. Add celery and onion and sauté until onions are light golden brown. Stir in tomato paste and garlic, and cook for an additional 1-2 minutes. Add stout, scraping the brown bits off of the bottom of the Dutch oven.

Return browned short ribs to the pan (plus any accumulated juices), with the rosemary, thyme, and bay leaf. If needed, add enough beef broth to almost cover the ribs (I used 1/2 cup).

Bring to a simmer, cover the Dutch oven, and bake for 2-1/2 hours. Check the short ribs after about an hour to turn them and add additional broth, if a lot of the liquid has evaporated. Add cipollini onions, re-cover, and continue braising in the oven for another 30 minutes, or until the short ribs are fork tender.
Make the potato topping
Boil cubed potatoes until soft (or cook in an electric pressure cooker according to your manufacturer's directions). Drain well and mash, or press through a potato ricer, into a large bowl. Stir in melted butter, 1-1/2 cups shredded cheese, milk/half and half, and kosher salt to taste (I use about 1-1/2 teaspoons, depending on the saltiness of the cheese). Add egg yolks and stir until smooth. Keep warm until ready to use.
Assemble the cottage pie
While short ribs are braising, heat 1 tablespoon oil in a nonstick skillet over medium-high heat. Add mushrooms and sauté until golden brown. Set aside.

When cooked, remove short ribs from Dutch oven and set aside. When cool enough to handle, remove bones and discard. Shred meat using two forks, discarding any large pieces of fat or gristle.

Using a slotted spoon, remove bay leaf and rosemary stalk from the gravy and discard. Use a spoon to skim the fat from the top of the gravy.**

Add mushrooms, peas, and thyme leaves and bring to a simmer. Stir in slurry until dissolved.*** Bring to a boil, stirring occcasionally, until thickened. Season to taste with salt and pepper.

Add short ribs back into the gravy and transfer to a 3-quart oval baking dish, leaving enough room on top for the potatoes.

Increase oven temperature to 375 degrees F.

Spoon potatoes onto cottage pie filling, or pipe them with a pastry bag fitted with a large star tip. Be sure to "seal" the edges with potatoes to help keep the gravy from bubbling over. If you used a spoon instead of piping, make decorative swirls in the potatoes with a fork. Sprinkle with remaining 1/4 cup shredded cheese.

Place dish on a baking sheet (important: the pie will likely bubble over, despite your best sealing efforts!) and bake 35-40 minutes until the filling is bubbling and the potatoes are golden brown.
---
Notes
*I used Murphy's Irish Stout in this recipe, as I prefer a lighter stout flavor in the gravy, without a lot of bitterness. If you live in the Northeast, Cadillac Mountain Stout is also a great choice.
**Short Ribs throw a lot of fat during braising, so you'll want to be sure to skim the surface thoroughly to avoid a greasy-tasting gravy.
***The amount of slurry you need will depend on how much braising liquid is left and how thick you prefer your gravy. Start with 1 tablespoon and add additional slurry as needed, bringing the gravy to a boil after each addition.
Make-ahead:
The short ribs can be braised a day or two in advance and held, with the gravy, in the refrigerator until ready to assemble the pie. If making ahead, remove any solidified fat from the top of the gravy while it's still cold. Bring short ribs and skimmed gravy back to a simmer before shredding the meat and proceeding with pie assembly.
Calories:
1022
kcal
|
Carbohydrates:
41
g
|
Protein:
35
g
|
Fat:
77
g
|
Saturated Fat:
37
g
|
Cholesterol:
223
mg
|
Sodium:
255
mg
|
Potassium:
1593
mg
|
Fiber:
7
g
|
Sugar:
6
g
|
Vitamin A:
3155
IU
|
Vitamin C:
33.9
mg
|
Calcium:
185
mg
|
Iron:
9.4
mg
---
About our Recipes:
Please note that our recipes have been developed using the US Customary measurement system and have not been tested for high altitude/elevation cooking and baking.
Have you made this recipe?
Don't forget to leave a comment and rate the recipe below! Take a picture and tag @stripedspatula and #stripedspatula on Instagram for a chance to be featured in our Insta Stories and newsletter!